Since the post-WrestleMania 33 edition of Monday Night Raw,Brock Lesnar has not appeared on WWE programming.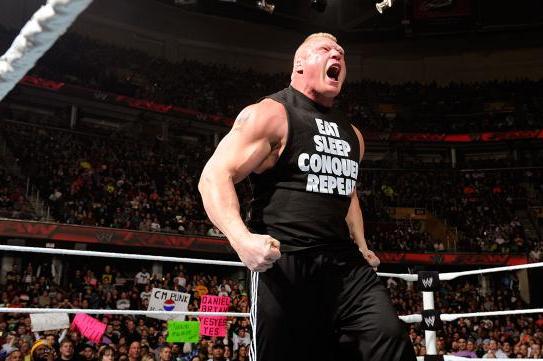 However, the likelihood of Lesnar returning after WWE Extreme Rules is seemingly possible.
In order to determine who will receive the first title shot against The Beast in July at the WWE Great Balls of Fire PPV, there are plans to host a Fatal Five Way. Whoever comes off victorious in the match, would be amongst some of Lesnar's coming challengers in the near future.
Reports however has it that the WWE Universal Title would most likely be defended by Lesnar at the WWE Great Balls of Fire against either Finn Balor or Seth Rollins. However the tide decides to turn, expectations remain high that Lesnar would walk away from the PPV still a champion.
Majority of the crowd would expect that Balor will emerge winner especially after Paul Heyman made an appearance this week on Raw to sing Balor's praises, thus putting him over the Fatal Five Way.
However, after Braun Strowman came off with an elbow injury, WWE officials were forced to make changes to their plans. Previously, the plan was to have Lesnar vs. Strowman at the WWE Great Balls of Fire. After Strowman's elbow surgery, the Fatal Five Way was made.
Hopefully, there are high expectations that Strowman will recover in time to participate in the WWE SummerSlam. If that happens, then the match with Lesnar would be expected to take place only a month away from the original plan.
After the summer,The Beast Incarnate will likely be taking some more time off from WWE which is not something the WWE Universe is very much thrilled about. However, he is expected to defend the Universal Title a lot before WrestleMania 34.